Space Types at a Glance (arrangements of units)
SPACE

A

(Sales Stand)

5 units maximum per Exhibitor.
3m width x 2m depth Height limit: 2.7m

•SHELL SCHEME

• Space A is exclusive for the sale of car-related products, merchandise and accessories.

•Two or more units will always be arranged horizontally in a single row.

*No combination bookings of Space A with any other Space types accepted.

SPACE A: arrangements of units

SPACE A PRICES
● Member:¥308,000 (tax included) per unit
● Associate:¥363,000 (tax included) per unit
SPACE

B

(Vehicle Display Stand)

4 units maximum per Exhibitor.
3m width x 6m depth
* Electricity:NO

•Space B is exclusive for vehicle on display (one vehicle per unit only).

*Demonstration, stand customization (decoration), stage effect, booth girls appearance, screening and lighting are strictly prohibited.

SPACE B PRICES
● Member:¥220,000 (tax included) per unit
● Associate:¥242,000 (tax included) per unit
SPACE

C

(Display Stand)

5 units maximum per Exhibitor.
3m width x 3m depth Height limit: 2.7m

•SHELL SCHEME

•One to five units will be arranged horizontally in a single row while four-unit may be in a double row.

SPACE C: arrangements of units

SPACE C PRICES
● Member:¥308,000 (tax included) per unit
● Associate:¥363,000 (tax included) per unit
SPACE

D

(Mid-sized Display Stand)

30 units maximum per Exhibitor.
3m width x 3m depth Height limit: 3.6m

•SPACE ONLY

•Space D consists of multiple units (6, 8, 9, 10, 12, 15, 18, 20, 24 or 30) arranged in two to five rows.

•12 or more linking units will be an island stand (exposed to aisles on all 4 sides).

SPACE D: arrangements of units

SPACE D PRICES
● Member:¥242,000 (tax included) per unit
● Associate:¥308,000 (tax included) per unit
SPACE

E

(Vehicle Display Stand with Shell Scheme)

3 units maximum per Exhibitor

•Space E is sold in sets with a vehicle display stand and a linking shell scheme.

*Space E must have a gangway between the vehicle display stand and the linking shell scheme.

SPACE E PRICES
● Member:¥495,000 (tax included) per unit
● Associate:¥605,000 (tax included) per unit
SPACE

F

(Vehicle Display Stand)

2 units maximum per Exhibitor.
3m width x 7m depth
* Electricity:YES

•Space F is exclusive for vehicle on display (one vehicle per unit only).

*Demonstration, stand customization (decoration), booth girls appearance, display other than vehicles are strictly prohibited.

SPACE F PRICES
● Member:¥275,000 (tax included) per unit
● Associate:¥308,000 (tax included) per unit
SPACE

S

(Large-sized Display Stand)

Height limit: 6m

•SPACE ONLY (you just get an area of floor, and your stand must be custom-built by yourself).

•Space S is an island stand (exposed to aisles on all 4 sides).

SPACE S: choice of areas (sqm)

1,000㎡ or over/ 800㎡/600㎡
/500㎡/450㎡/300㎡

•A stand of 800㎡ and over may be shaped like

.
•Height may partially be limited to 4 metres.
•The Fire Defence Law may require those who get a stand of 1,000㎡ and over to have a 5-metre gangway within their stand.
SPACE S PRICES
● Member:¥44,000 (tax included) per sqm
● Associate:¥49,500 (tax included) per sqm
Floor Plan
(TBC)
* The floor plan will essentially be arranged by Space types as illustrated below.
We may however assign other Space type's stands in the designated area in response to changing situations such as a last-minute cancellation.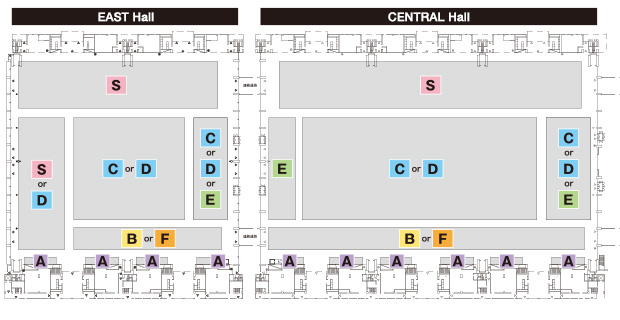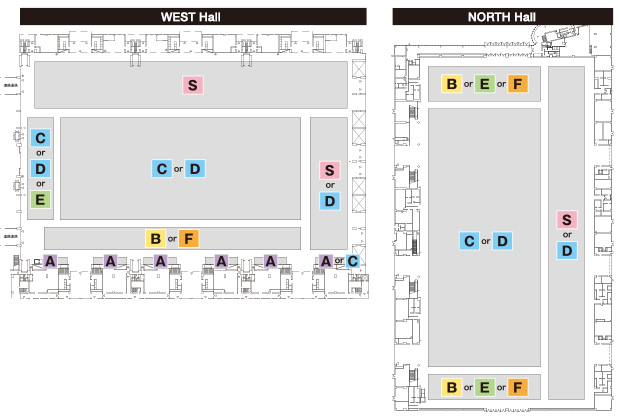 Exhibitor Classifications
[Member]
Those who have participated in TAS for three or more times (including this time) out of past 39 shows.
[Associate]
Other than those above.
Type of Space
[Space A]
Sales Stand (Shell Scheme)
[Space B]
Vehicle Display Stand


*No electricity use allowed.

[Space C]
Display Stand (Shell Scheme)
*maximum 5 units per Exhibitor
[Space D]
Mid-sized Display Stand (Space Only)
*6, 8, 9, 10, 12, 15, 18, 20, 24 or 30 units units
[Space E]
Vehicle Display Stand with Shell Scheme
[Space F]
Vehicle Display Stand


*Electricity use allowed.

[Space S]
Large-sized Display Stand (Space Only)
Space Assignment
| | |
| --- | --- |
| • | Space assignment will be made by TASA. |
| * | The floor plan will essentially be arranged by Space types. We may however assign other Space type's stands in the designated area in response to changing situations. |